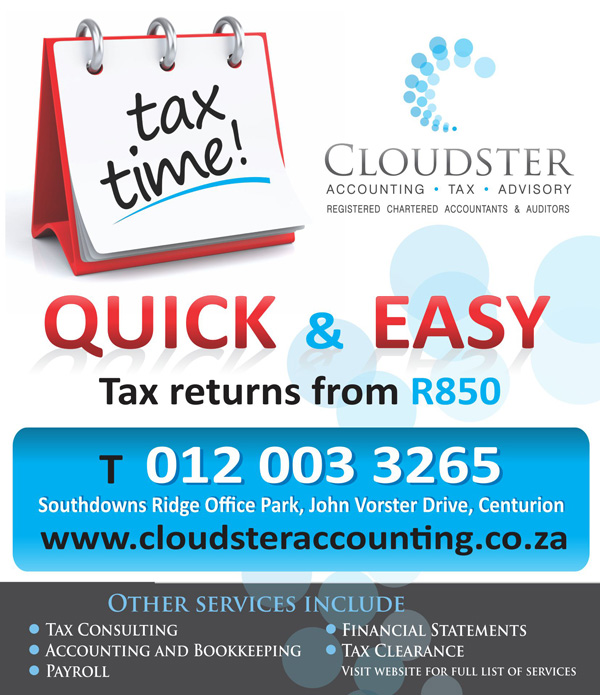 Cloudster Acccounting Blog: Accounting, Tax, Bookkeeping, Payroll
How to avoid the taxman – SARS?
The short answer is you legally cannot. We can however assist with tax planning reducing your tax burden by structuring your tax payable in the most effective way. Speak to our business consultants for free advise.
Bookkeeping and Accounting Services – Centurion
Our firm focus on providing bookkeeping, accounting services, tax services and payroll in the Centurion/ Gauteng area. We focus on small to medium enterprises. We have clients in Wierda Park, Eldoraigne, Amberfield, Highveld, Eco Park, Midstream, Southdowns and also in parts of Pretoria and Johannesburg.
Should you file outstanding SARS tax returns even if not required?
If you have long outstanding returns the changes are that you might have a refund due on one or several of your outstanding tax returns. From our statistics the chances are 80% that you might have a refund due. You might also be incurring penalties on outstanding returns on which you might be charged at R250 per month if you where required to submit your return.
If you have been unemployed for a period during the last 7 years, the changes are you have a tax refund due and will be able to claim it.
We can assist on a no fee no charge basis and will allow you to settle your account with your tax refund. Give our friendly tax consultants a call for free advise.